About Us
When you arrive at Salem Place Nursing and Rehab we want you to feel welcome. Salem Place offers a serene and relaxing atmosphere. We feature a unique open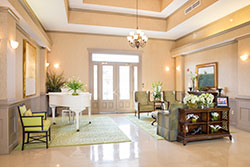 floor plan with four distinct halls. Each hall offers its own, "neighborhood," feel with its own dining hall and kitchen. We offer secure lush outdoor courtyards with large patios, which back up to a green belt. To get a better understanding of what we have to offer you may click here to view photos of the community.
We are a long-term care skilled nursing facility offering long term care, respite care, and hospice. We also offer short-term rehabilitation, Physical Therapy, Occupational Therapy, and Speech Therapy to maximize your personal and individual goals. We have both private and semi private rooms with onsite beauty salon and barbershop.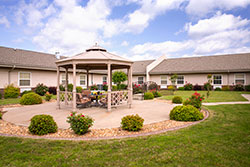 This facility offers longevity employment for key personnel. Same great people same great service. 2014 marks 25 years with the same administration. Named one of America's top nursing homes by the Consumer Research Council of America for 4 years in a row. Winner of Best of the Best for Faulkner County 5 years in a row. Dietary Manager named Dietary Manager of the year by Arkansas Healthcare Foundation Administrator. Our CNA, Don and R.N. named top three finalist by the Arkansas HealthCare Foundation.
We are committed to our community through volunteer work and financial support.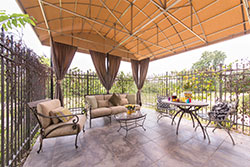 Short-Term Rehab, Long Term Care & Respite Services
We specialize in Short-Term Rehabilitation and Long-Term Care services. From the moment you enter Salem Place we want you to experience the difference that we offer. From our light-filled common area to our beautiful outdoor patios, we want you and your loved one to feel comfortable when staying with us. You will also notice the pride we take in our facility by keeping our building sparkling clean from the inside out.
Our team is dedicated to providing a safe and comfortable environment.