Health Services
Short Term Rehabilitation
Because coming to a rehab center can be an unplanned and fast paced experience, we try our best to communicate with patients and families in a manner that helps to reduce the stress that often accompanies this experience. Our team of nurses, therapists and support staff work closely together to provide individualized care that meets each patient's specific needs. We work with our patients to recover in a timely manner and be restored to their prior level of function. Our goal is to help you return home where you belong.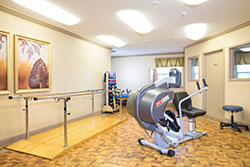 We offer physical and occupational therapeutic services as well as speech pathology.  Our team of nurses, therapists, and staff are passionate about utilizing the latest programs and techniques, so you can be sure that you or your loved one will receive top quality care. We utilize therapy modalities combined with a comprehensive therapy program for strengthening, balance training, pain reduction, wound healing, and increasing range of motion.  Our Speech pathologist incorporates swallowing, language, and cognitive procedures to meet the needs of our residents.
Our specially designed rehab unit functions to help meet each individual's needs in a comfortable environment.
Long Term Care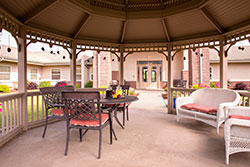 We provide Long-Term Care in addition to rehabilitation services. Our staff takes pride in their jobs and it shows by their compassionate nature. Both private and semi-private accommodations are available, as well as transportation to and from medical appointments for your convenience. Our Activity Calendar is always full, ensuring that residents always have a social event to attend.
We encourage family visits, especially around meal times.  Our beautiful dining area is perfectly suited for residents and their families to catch up over a delicious meal.  To help our residents stay better connected with friends and loved ones and to ensure visitors stay connected to work and email, we also provide free wireless Internet.
Respite Care
Residents who come for respite care services enjoy all the amenities provided to our full-time residents, including daily housekeeping, laundry services, daily activities, and daily meals.  We offer 24 hour nursing care in a comfortable, healing environment.